Delhi witnessed its coldest day on Wednesday in the past 44 years, with the maximum temperature falling sharply to 9.7 degree Celsius. Residents woke up to a foggy morning, with the minimum temperature dipping to 4.8 degree Celsius.
Poor visibility affected schedules of nearly 30 flights and led to diversion of an international flight to Mumbai. In Uttar Pradesh, the death toll continued to mount, with 15 more people succumbing to the chill in various parts of the state.
Officials said four people died in Muzaffarnagar which remained the coldest place with 0.6 degree Celsius, followed by three in Mathura, two each in Agra, Bulandshahr, Etah and one each in Barabanki and Mirzapur.
With this, the death toll in the state this winter has reached to 107.
Night temperatures remained below normal in most parts of the state including Moradabad, Agra, Meerut, Gorakhpur, Lucknow, Bareilly and Kanpur divisions.
Himachal continued to reel under sub-zero temperatures, with Keylong remaining the coldest place with a minimum of minus 8.9 degree Celsius, followed by Kalpa with minus 3.5 degree Celsius. While the key tourist resort of Manali shivered at minus 3 degrees, capital Shimla recorded a low of 2.1 degree Celsius.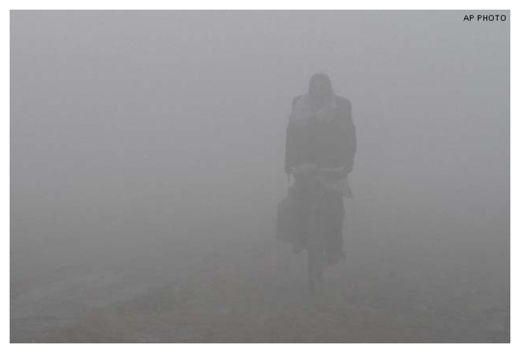 According to Met officials, early morning fog engulfed most parts of the state but visibility improved as the day advanced. Cold wave swept entire Rajasthan too, where Churu was the coldest place with a minimum temperature of 1.6 degree Celsius, followed by Pilani with 2.6 degree Celsius.
Bikaner, Sriganganagar, Jaipur, Dabok and Jaisalmer recorded night temperatures of 4, 4.5, 5.2, 6.4 and 6.5 degree respectively while other stations recorded minimum of 7 and 8 degree Celsius.
Punjab and Haryana also remained in the grip of severe cold, with mercury dropping by up to three notches below normal in various parts. Dense fog and mist resulted in low visibility, causing disruption to rail, road and air traffic.
Narnaul in Haryana remained the coldest place in the region with a minimum of 2.4 degree Celsius, down by three notches below normal. Bhiwani and Hisar had a low of 3.6 and 4 degrees Celsius respectively, while Ambala and Karnal shivered at 5.5 and 5 degrees, down by two notches below normal.
Temperature in Union Territory of Chandigarh recorded a low of 4.2 degree Celsius, dipping by a degree below normal. According to Met department forecast, cold wave will continue to persist in the region for the next 2 to 3 days with the temperatures remaining below normal in many places.