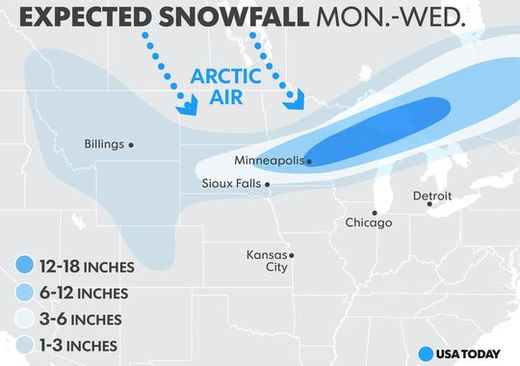 Arctic air will plunge toward the South and East on Wednesday and Thursday, after as much as 2 feet of record-breaking snow buried portions of the upper Midwest.
Temperatures only made it into the single digits, teens and 20s Tuesday across much of the north-central U.S. - 20 to 40 degrees below average for many areas, the National Weather Service said.
Wind chills were as cold as minus 20 in parts of western Montana. By Wednesday morning, wind chills could drop to minus 35 in some spots - low enough to cause frostbite in 10 minutes.
Weather service meteorologist Paul Kocin said the cold air will reach the Appalachians to mid-South by Wednesday morning and then hit the East Coast by Thursday morning. The East Coast will see cooler temperatures but be spared from the dramatic lows in the middle of the country, Kocin said.
Freezing temperatures are still possible in parts of the South and East, AccuWeather meteorologist Alex Sosnowski said.
The heaviest snow fell across Minnesota, Wisconsin and the Upper Peninsula of Michigan. Ishpeming in northern Michigan picked up
24.5 inches of snow as of late Tuesday
afternoon, the highest total from the storm so far, according to the weather service.
Marquette, Mich., got socked with
21.5 inches of snow so far
, creating treacherous driving conditions.
At least two people were killed in Minnesota on icy roads, the Minnesota State Patrol said.