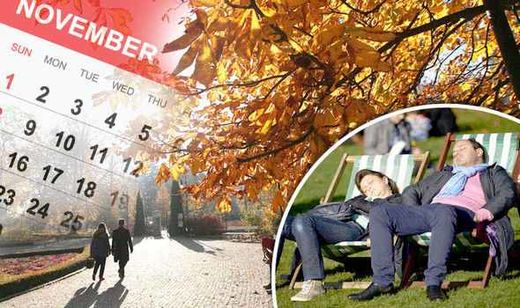 There may only be seven weeks to go until Christmas, but that did not stop Britons flocking to the beach as the country saw the hottest start to November since records began.
There was no need for extra layers yesterday as pictures from across Britain showed dozens of people sunbathing in balmy spring-like weather on Brighton beach.
Across the country the mercury touched 72.3F (22.4C) in Ceredigion, Mid Wales, beating the previous record of 71.1F (21.7C) set in Prestatyn, north Wales, in 1946.
It is the highest November temperature recorded by the Met Office since it began collecting data in 1910.
In Wales thousands of day trippers heading to the mountains and coast with youngsters playing on the sands.
One of the warmest Halloweens on record saw thermometers hit 67F on Saturday in Hampton, south-west London.
But the warm weather could be set to stick around a while longer as forecasters are predicting up to two weeks of balmy spring-like weather.
Forecasters say the balmy weather is set to continue and it could feel like 72F (22C) later this week.
Warm winds from the Continent have so far held off any hint of winter's approach with the rest of November looking to follow suit.
The outlook for the next 10 days is dry and settled as official figures show October turned out to be warmer and sunnier than average.
But there is a downside.
Yesterday morning saw heavy fog at Heathrow, forcing the cancellation of about 50 flights
.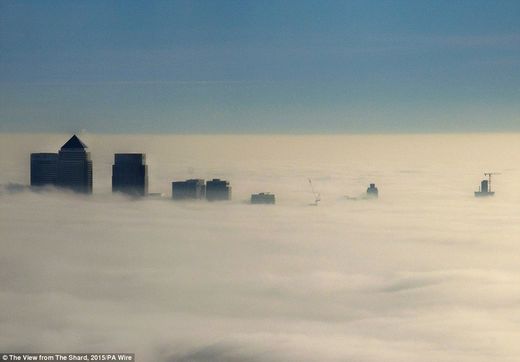 The Met Office even issued a severe weather warning for more fog across England and Wales.
The thick fog was still causing chaos as Briton woke this morning as it threatened to ground more flights and cause rush hour delays.
Around 45 have already been "pre-cancelled" at Heathrow today, while those planning to fly from Gatwick Airport have been advised to check ahead for any disruption.
Richard Chapman, of The Weather Network, said: "Into midweek, the mild, and largely dry pattern continues for many areas.
"Overall the first 10 days of November may see only subtle changes with very mild south to south-westerlies prevailing."
Exacta forecaster James Madden said overnight frosts were a risk in rural spots.
However the weather promises to stay "friendly" over the coming week with a largely balmy Bonfire Night.
Netweather forecasters said with mild winds temperatures will feel close to 72F in the South by Friday with the North touching 64F.