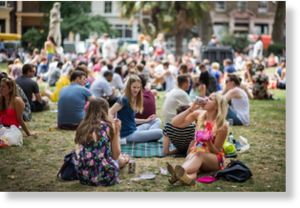 Sunday and Monday have felt more like midsummer than mid-autumn across most of Florida. In Tallahassee,
Sunday's high temperature of 88°F and low of 75°F
both
tied for the warmest ever recorded there in November,
and the day's average of 81.5°F handily beat the November record of 80.5°F set on 11/11/82 (records extend back to 1892).
At midnight, it was still a sultry 80°F, with a relative humidity of 87%! Tallahassee's overnight low on Sunday night was a ridiculous 78°F.
Balmy temperatures are also gracing much of Europe for the first week of November, thanks to an unusually strong upper-level high. On Sunday, the
United Kingdom saw its warmest November temperature in more than a century of official records
, as
Trawscoed, Wales, soared to 22.4°C (72.3°F)
, besting the previous mark of 21.7°C (71.1°F) set in the Wales town of Prestatyn on November 4, 1946. On Monday afternoon, Trawscoed warmed again to at least 21.2°C (70.0°F), based on hourly observations.
The unseasonably mild temperatures mean that the UK is warmer than Rome, Lisbon and Barcelona.
Temperatures this week will be especially mild for mid-autumn across northern latitudes and higher altitudes of Europe.
Finland saw its
warmest-on-record November temperature
on Monday with 13.3°C (56.0°F) at the town of Jomala
, which held the previous national record of 13.0°C (November 12, 1999). In Helsinki, Finland, where the all-time November record is 11.6°C (52.9°F). Helsinki's Vantaa airport likely topped that reading on Monday, with the highest Celsius-rounded hourly observations hitting 12°C (53.6°F).
The
latest WU forecast
calls for a high of 55°F in Helsinki on Tuesday. The town of
Sunndalsøra, Norway
--less than 300 miles south of the Arctic Circle--reached at least 64°F on Monday.
Later this week, temperatures may inch above freezing and trigger snowmelt at altitudes as high as 4000 meters (13,100 feet) in the Alps
, according to international weather records historian Maximiliano Herrera, who maintains a comprehensive list of extreme temperature records for every nation in the world on
his website
.