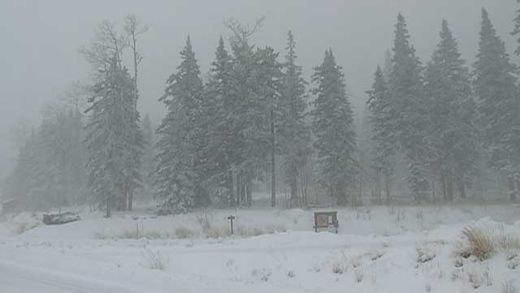 Record-setting snow in the high country on Wednesday has made the roads slick, according to the Arizona Department of Transportation.
ADOT is warning drivers to watch for icy roads in northern Arizona. There have been a few reports of vehicles going off the sides of roads.
The eastbound lanes of Interstate 40 in Williams were closed for a short time Thursday morning to remove ice from a bridge at milepost 162. ADOT officials said Interstate 17 just south of Flagstaff is clear of snow, but drivers should expect a slick road surface. Temperatures in Flagstaff were in the 20s Thursday morning and it's expected to be in the teens Friday morning.
An overnight freeze warning is in effect for elevations between 3,000 and 5,000 feet. Schools in the Flagstaff Unified School District were on a two-hour delay Thursday. Flagstaff received nearly
9 inches
of snow on Wednesday and more than 2 feet of snow fell at Arizona Snowbowl. Another round of snow could come next week. Snowbowl hopes to open Nov. 20.
Motorists heading up to the area should be sure to have blankets, warm clothes and a full tank of gas.