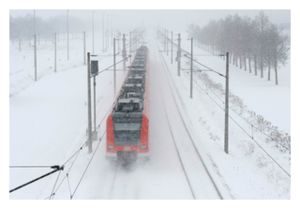 Winter weather threw travel across Germany into turmoil early this week. Snow blanketed much of the country, causing hundreds of cancelled flights and road closures. Conditions began to improve on Tuesday, but not before skiers at ice skaters could have a little fun.
Jack Frost continued to bite at Germany's nose on Tuesday, with snow still falling across many parts of Germany on Tuesday, following heavy snowfall on Sunday and Monday, the German Weather Service (DWD) reported.
The service said that 3.5 billion tons of snow fell in the country on Sunday alone. With winter weather continuing, that figure could rise to 6 billion tons by Wednesday.
Winter weather conditions led to frustrating travel conditions across the country. At Frankfurt's airport, Germany's largest, about 543 or 1,190 planned flights were cancelled Monday, according to German news agency DPA. In Munich another 200 flights were grounded. Delays affected air traffic at every German airport as crews de-iced planes and snow-removal equipment was used to clear gates.