Britain could be facing the coldest May for 100 years, with snow, bit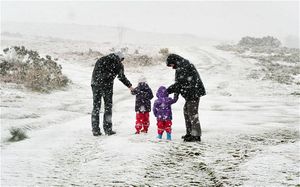 ter winds and freezing temperatures putting summer on hold.
The winter weather follows a wet start to April, with the threat of floods and storms to come over the next few days.
The Met Office has issued weather warnings for the South West, London, South East, Wales and the West of England due to flooding on roads and 60mph winds.
Hail storms are expected across the country and it is feared windows could be broken by giant hail, up to 1cm thick. In the north and Scotland temperatures could fall to -2C.
Despite the ongoing drought, heavy downpours could cause localised flooding, even in areas where there is hosepipe ban in place.
Independent forecaster WeatherAction has also predicted the next month will be the "coldest or near coldest for 100 years" in the East of England, with cold northwesterly winds.