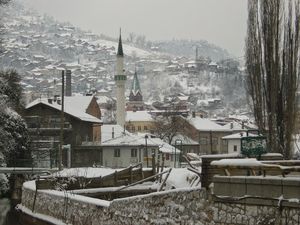 A man was killed in Bosnia and more than 100,000 homes across the Balkans were without electricity on Friday after blizzards brought down power lines and triggered landslides.
The Bosnian died when a tree, dislodged by a landslide, fell on his car near the central town of Zepce.
Dozens of motorists in southwest Bosnia were stranded by the snowstorm, which began on Thursday.
Authorities said more than 50,000 households were without power in Bosnia and over 30,000 in Serbia. Many in Bosnia were also without running water because electricity was cut to pumping stations.
"Teams are out in the field; they are facing heavy and wet snow and have to constantly remove broken trees that damaged power lines," Milovan Glisic, a Serbian electricity official, told Reuters.