Extreme Temperatures
BBC
Sat, 19 Jan 2013 18:22 UTC
Parts of Europe, including Russia, France, Austria and the UK have seen heavy winter snowfall.


---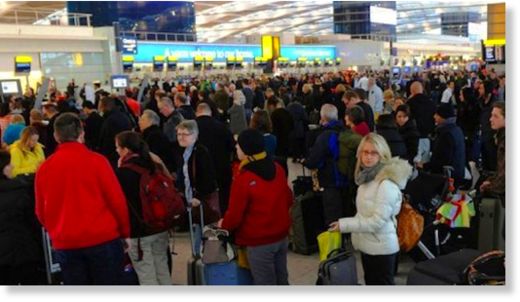 Extreme winter weather swept across western Europe Saturday, leaving thousands of passengers stranded at London's main international airport and claiming several lives in Spain, Portugal and France, including those of three Mali-bound soldiers.
The frigid temperatures also caused delays and cancellations on major railway lines including the Eurostar train service, and transport authorities warned of further traffic disruptions with more blizzards forecast for Sunday.
In London, thousands of passengers were forced to camp out on the floors of Heathrow Airport overnight as hundreds of flights to and from the British capital were cancelled.
"There are lots of bodies lying around in the airport. If feels like there's been a natural disaster," Jerry Meng from Los Angeles, whose flight to New York was cancelled, told British broadcaster BBC.
---
Mario Ledwith and Allan Hall
Daily Mail
Fri, 18 Jan 2013 07:49 UTC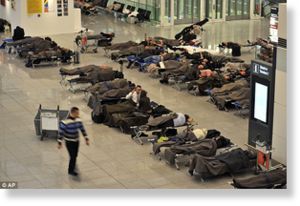 Thousands of passengers have been left stranded across Europe as snow storms and freezing temperatures have forced airports to shut down. As Britain braces itself for its own travel chaos, hazardous weather has already left transport at a standstill in other European countries.
More than 1,000 unfortunate travellers resembled refugees at Munich airport as they were left no choice but to sleep overnight on camp beds provided by the airport. Heavy snowfalls and ice led to hundreds of flight cancellations at Germany's second-busiest airport.
Across the country, an estimated 20,000 could be left with nowhere to go as planed stayed grounded. With no hotel capacity available near Munich airport, where 300 flights were cancelled, to deal with the stranded passengers, staff struggled as they handed out blankets and soft drinks.
---
Robert Felix
IceAgeNow
Thu, 17 Jan 2013 17:16 UTC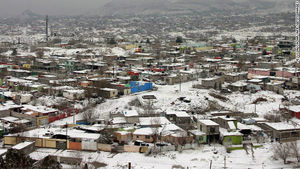 This is from an article that appeared in Vanguardia this morning in an inconspicuous spot in the first section. I guess we weren't supposed to see it.
Chihuahua - The arrival of cold front 21 generated temperatures of 13 degrees celsius below zero, as well as road accidents in various municipalities reported by the meteorologist of The State Civil Protection Department (UEPC), Salvador Echevarria Campos.

The UEPC meteorologist reported that 63 of the 67 state municipalities woke up to temperatures below zero degrees celsius, of these, 20 registered between zero and minus six degrees, with the forecast saying that these conditions will continue the same.

Madera and Casas Grandes are the locations with the lowest temperature registering minus 13 and minus 11 degrees, followed by Matachi and Villa Ahumada with minus 10 degrees and as well Temosachic and Bocoyna with minus 9.

Campos emphasizes that the Capital woke up to minus 6 degrees and explains also that the frost will continue, due to a mass of cold air that arrived with Cold Front number 21, which is at the border of Chihuahuan Territory but closures and havoc prevail.

Meanwhile, in the State of Sonora, temperatures registered 14 degrees below zero in the last few hours (and Sonora) has been affected by the most extensive cold wave in the last 42 years.

Caption on photo: 'Suffering. The streets of Nogales, Sonora woke up covered with ice.'
Thanks to Alan Stover for this info, and for the translation.
---
Robert Felix
IceAgeNow
Thu, 17 Jan 2013 17:13 UTC
"Just want to inform you about epochal snow event in Croatian capital Zagreb (SE Europe)," says reader Mihael Krstic.

"We have new record snow depth for January set to 68cm (27 inches) beating previous 49cm (19 inches) and all of that in just 24 hours! That's biggest snowfall from 1861.

"More snow is on the way until end of the week!


---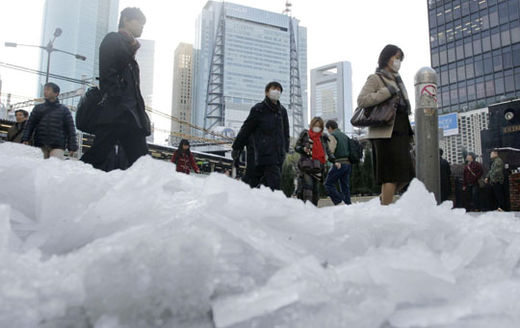 The heavy snow that blanketed eastern Japan over the holiday weekend left one man dead and injured more than 900 others, while Tokyo commuters dealt with slippery streets as they returned to work Tuesday.
A low-pressure system, dubbed a "bomb cyclone" by the local media, dumped 8 cm of snow in nine hours, the heaviest snowfall in the Tokyo region since January 2006, the Meteorological Agency said.
---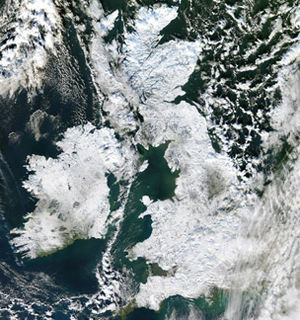 Snow could fall on most of the UK by the weekend as the cold snap continues to bring freezing temperatures to most of the country.
Eastern areas have borne the brunt of the snowfall with 42 schools closing in Norfolk, all planes grounded at Norwich International Airport and a six-vehicle pile-up on the A11 leaving three people with injuries.
The Met Office recorded snow depths of 8cm (3in) in Norfolk and Suffolk as the snow continued to fall.
---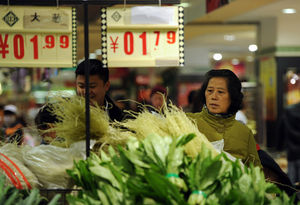 China's inflation accelerated more than forecast to a seven-month high as the nation's coldest winter in 28 years pushed up vegetable prices, a pickup that may limit room for easing to support an economic recovery.
The consumer price index rose 2.5 percent in December from a year earlier, the National Bureau of Statistics said today in Beijing. That compares with the 2.3 percent median estimate in a Bloomberg News survey of 42 economists and a 2 percent gain in November. The decline in the producer-price index eased to 1.9 percent.
Chinese stocks headed for the biggest drop in eight weeks on concern that the quickening in inflation makes further policy loosening less likely, after data yesterday on exports and credit growth underscored the strength of the economic rebound. Chen Yulu, a central bank academic adviser, said Jan. 8 that price gains may become a concern in the second half.
"With growth momentum firming up and inflation picking up, the likelihood of any further easing has disappeared and the next interest-rate move will probably be an increase," which could come as early as the fourth quarter, Zhu Haibin, chief China economist at JPMorgan Chase & Co. in Hong Kong, said in a telephone interview.
---
Martin Wainwright and Rebecca Smithers
The Guardian
Tue, 15 Jan 2013 16:42 UTC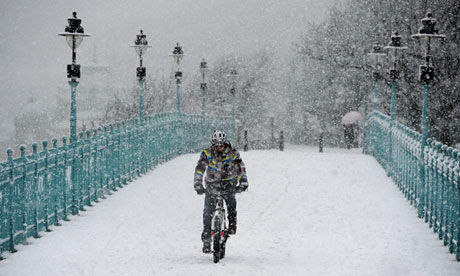 Local authorities urge people to look out for vulnerable neighbours as up to 17cm of snow falls overnight
The UK's first major snow of the winter has given way to colder temperatures as the likelihood of a month of chillier weather increases.
Snow will continue to prowl around for at least a week but in relatively light amounts and the Met Office warns in its longest-term forecast - to Valentine's Eve - that "the frequency of snow events through this period may be more than experienced so far this winter".
---
Brad Sowder
KOCO
Tue, 15 Jan 2013 16:38 UTC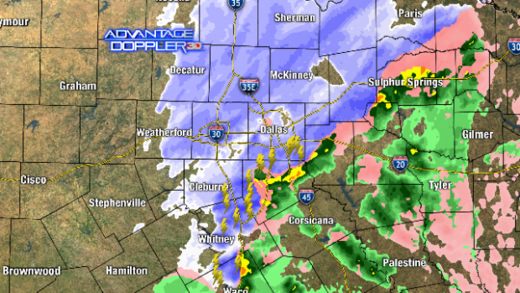 You have seen snow, and you have seen a thunderstorm, but have you seen them at the same time? If you were in south Dallas this Tuesday morning you would have.
Thundersnow is rare. Most thunderstorms form when warm air at the surface rises, cools and then condenses. Condensation continues and forms storm clouds aloft.
When the air is cold at the surface something else has to force that air to rise. This Tuesday morning, the thundersnow in north Texas was caused by a short wave trough moving through the region.
This trough created upper-level diverging air which in turn creates converging air at the surface forcing air to rise. The snow and sleet created quite a headache for the morning commute. It also canceled many flights out of DFW.
---