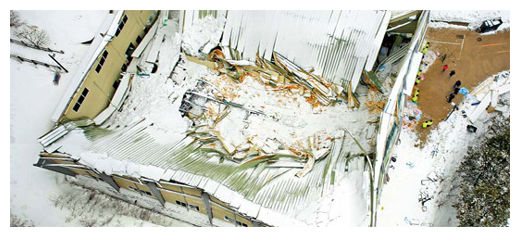 The resort collapse in Gyeongju, North Gyeongsang Province on Monday night that killed 10 students and injured 105 was no freak accident.
Record snowfall in southeastern Korea on Nov. 9 had already caused five roofs in the neighboring port city of Ulsan to cave in and another 27 reports of possible structural failure at factories and homes.
On Feb. 10, the roof of one autoparts maker in Ulsan caved in crushing one worker to death, and on Feb. 11, the roof at another factory nearby collapsed, killing one worker and injuring two others.
Gyeongju, just 20 km away from Ulsan, saw 50 to 60 cm of snowfall since Feb. 9, but nobody took the time to voice concerns as hundreds of students piled into the gymnasium at the snow-covered resort.
The roof of the structure collapsed under the weight of tons of snow. According to the student council at Busan University of Foreign Studies, around 560 freshmen were inside the gymnasium that night.
They were watching performances put on by their peers when the roof caved in. Around 450 students managed to escape, but 115 were not as lucky.
The gymnasium was built in 2009 and was a prefabricated building with rigid frames and side walls. Such buildings are favored for their relatively low cost and short construction time but are unable to withstand heavy loads placed on top of them. They are usually used as warehouses.
The National Disaster Management Agency dispatched 412 firefighters and 558 police officers to the scene shortly after the accident. The search-and-rescue operation ended on Tuesday afternoon, 18 hours after the tragedy occurred.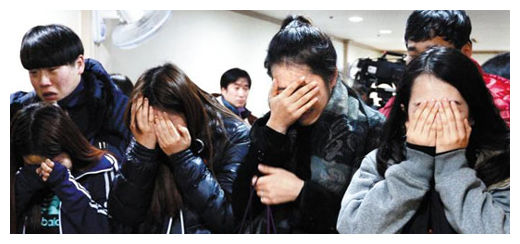 Students who were at the scene of the accident cited a failure by resort employees to respond quickly, which many said delayed rescue efforts and led to more casualties.
The Gyeongju city fire department, which led the rescue efforts, arrived at the scene 30 minutes after the accident, but fire engines and ambulances came to a grinding halt in front of the gymnasium because the road leading up to it was covered in snow. The traffic jam grew worse as more rescue vehicles converged at the scene.
"Snow that had piled up on flat roads had mostly melted, but the road leading up to the mountain resort was covered with ice," a spokesman for the Gyeongju fire department said. "It was too slippery for rescue vehicles and ambulances to go up."
A failure by resort staff to keep the access roads approachable made it nearly impossible for heavy construction vehicles to approach the gymnasium to lift the debris.
Gyeongju city officials said they wasted no time contacting heavy vehicle drivers for help, but 25 cranes and other equipment could not go up the slippery mountain road.
Provincial police have set up an investigative team to look into the cause of the collapse, while forensic experts plan to look for evidence pointing to negligence by resort operators and whether any building codes were violated in constructing the gymnasium.