Extreme Temperatures
---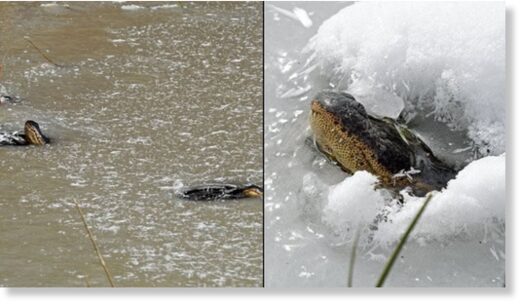 Alligators in Oklahoma went into a deep freeze as frigid, icy temperatures plagued much of the central and eastern United States.
Wildlife photographer David Arbour captured stunning photos of several alligators poking their snouts through the ice to breathe at the Red Slough Wildlife Management Area this week.
While the alligators may appear to be dead, scientists say they're not. It's a survival technique alligators use when the water starts to freeze.
---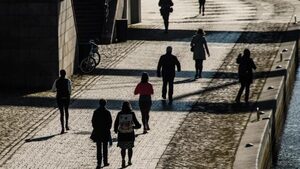 Germany has seen its its biggest temperature swing since records began - with an increase of 41.9 degrees in one week.
Climate researchers at the German Weather Service (DWD) on Tuesday said the country had never before experienced a swing like the one that occurred at the weather station in the central German city of Goettingen.
A low of minus 23.8 degrees Celsius was recorded there on February 14. Seven days later, on February 21, the high was 18.1 degrees Celsius,
The previous record had been set in May 1880, in the early days of weather record-keeping
. At that time, a temperature rise of 41 degrees had been measured within seven days, said a DWD spokesperson.
In northern Germany, two regional winter heat records had also been broken on Monday. In the town of Quickborn, the high was 18.9 degrees Celsius, passing the record of 17.8 degrees measured two years earlier.
In the Hamburg area, the Neuwiedenthal weather station hit 21.1 degrees on Monday. The previous record of 18.1 degrees at the same station just more than a year earlier was thus "pulverized," a DWD spokesperson said.
"For the first time since temperature records began, the temperature in Hamburg has thus risen above 20 degrees in winter," he said.
---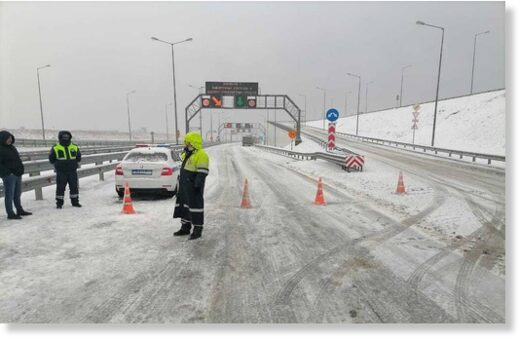 While parts of the United States and Europe enjoy a brief respite from the frostbite, the majority of Canada, transcontinental Russia, Kazakhstan, Uzbekistan, and Turkmenistan continue to suffer from a descended Arctic.
Siberia is suffering one its coldest winters on record, with temperatures in the vast Northern Asian region having regularly dipped below -50C (-58F) since mid-December, 2020.
Much of Central and Western Asia has also been battling brutal and unusual freezes over the past few months, which in turn have lead to
food
and
energy
prices soaring to record highs.
---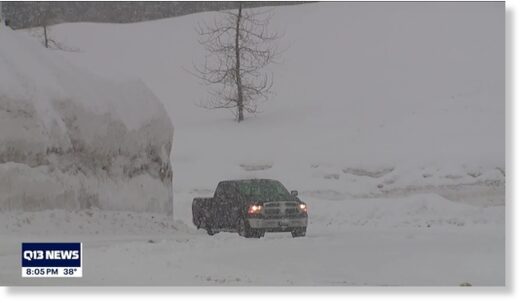 This week over 375 inches of snow were measured in Snoqualmie Pass, surpassing the ten-year average, according to the Washington State Department of Transportation.
The snow banks are also reaching heights of up to 12 feet, and stunning people who live near the mountain pass.
"I mean this weather has been pretty crazy," said Glenn Vickery. "We've actually had some really good light snow, but it's been a lot of snow and it's been unique with this pebble-like snow, so it's been a crazy year with a lot of different weather conditions. It's been pretty cool."
Silas Wild is an avid skier and drove down Snoqualmie Pass to North Bend before sunset. "Coming up you could see all the trucks were stopped to chain up and the plows were plowing and causing a little slowdown, so I'm glad I'm going down and not up," said Wild.
Since November, I-90 to Snoqualmie Pass was closed for more than 40 hours due to collisions, spinouts and avalanche control work.
---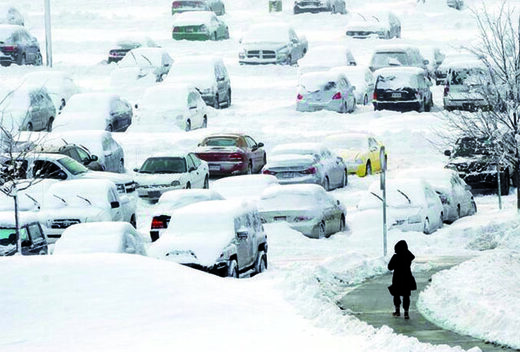 The Arctic invasion that recently swept the United States was truly historic, and the record books prove it.
According to warm-mongers NOAA - who willfully ignore the Urban Heat Island (UHI) effect - the month of February, 2021 has so far (to the 20th) seen 9,075 daily cold-minimum and cold-maximum temperature records fall across the United States vs just the 982 for warmth.
Of these, 693 also qualified as new monthly record lows.
And of these, a staggering 198 were also new all-time never-before-witnessed benchmarks - often in record books dating back 150+ years.
---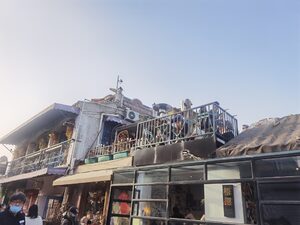 Beijing recently recorded its highest February temperatures in 70 years.
Records from the meteorological observatory in Daxing district (南郊观象台) showed that at around 4pm on February 21, temperatures reached a high of 25.6 degrees Celsius.
It was the
warmest temperature
on record in Beijing in February since 1951.
Many
That's Beijing
readers took advantage of the unseasonably warm weather. Outdoor activities included rock climbing, relaxing at rooftop bars and cafes, exploring Beijing via scooter and more.
An acoustic band made up of Beijing expats wore t-shirts as they sat by the Liangma river and serenaded passers-by.
However, the "fake summer" has been somewhat short-lived as temperatures will likely
return to normal
soon.
Reports suggest that on February 22 and 23, there will be a high of just 14 degrees Celsius.
It could be a while before the capital experiences such high temperatures again. At least some of the city's residents were able to enjoy the warm weather while it lasted.
---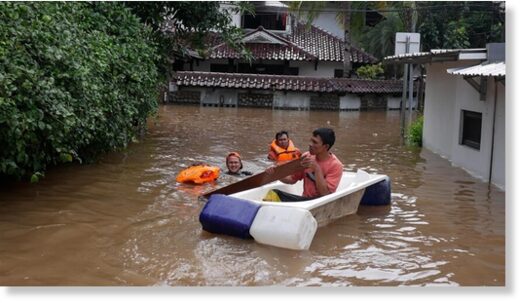 The first month of 2021 saw a host of environmental disasters, including floods in Malaysia and the Philippines, a volcanic eruption in Indonesia, a massive forest fire in India, landslides in Papua New Guinea and an avalanche in Russia.
Here is a timeline compiled by Anadolu Agency.
Jan. 2:
- Massive forest fire engulfs the picturesque Dzuko Valley located in northeastern India.
Jan. 3:
- The death toll from the landslide in the village of Ask, Norway, on Dec. 30, rises to six.
- Mount Sinabung in North Sumatra, Indonesia, erupts, spewing ash columns up to 1,000 meters high.
---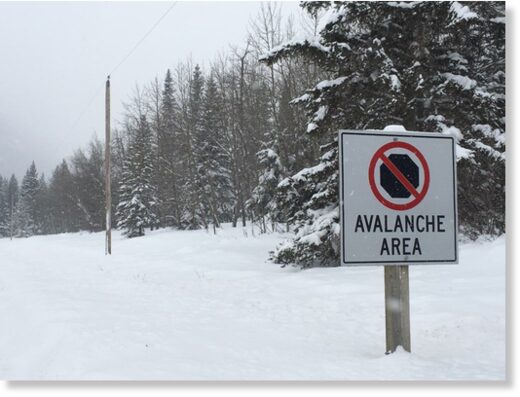 SAR helicopter was able to recover the deceased
A 27-year-old man has died following an avalanche this weekend in northern B.C.
On Saturday (Feb. 20) just after 2:30 p.m. Chetwynd RCMP were notified by the International Emergency Response Coordination Centre of a device signal activations, known as InReach Spot, on the east face of the Murray Mountain range by Mt Gilliland, south of Pine Le Moray Provincial Park, which is southwest of Chetwynd.
Through the InReach device messaging, police discovered that an avalanche had occurred while a group of snowmobilers were in the area and one man was missing.
---
Bob D'Angelo
kiro7.com
Sun, 14 Feb 2021 14:22 UTC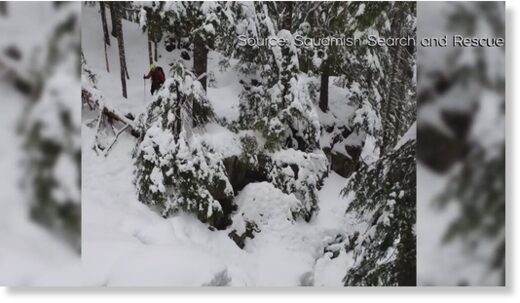 A 45-year-old snowboarder died in an avalanche in northwest Canada on Saturday, the second fatality in as many days, authorities said.
According to a
statement
from the Royal Canadian Mounted Police, the avalanche occurred in Brandywine Bowl, an area southwest of Whistler, British Columbia.
On Friday, one skier was killed and two others were injured in two avalanches near Whistler,
CBC reported
.
Multiple people were caught in Saturday's avalanche at about 2:03 p.m. PT. Rescuers began searching for them immediately, according to
CTV News.
The snowboarder was found about 45 minutes later and died of his injuries, according to the RCMP.
---