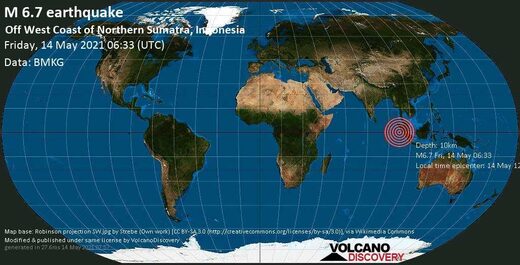 An earthquake of magnitude 6.6 struck off the northwest coast of Indonesia's Sumatra island on Friday, the GFZ German Research Center for Geosciences (GFZ) said.
The Indonesia earthquake was at a depth of 10 km (6.21 miles), GFZ said.
Indonesia's weather and geophysics agency, BMKG, put the quake at 7.2 magnitude and at a depth of km but said it had no potential to trigger a tsunami wave.
On Dec. 26, 2004, a 9.1 magnitude quake off the coast of northwest Sumatra triggered a tsunami that killed more than 230,000 people in Indonesia, Sri Lanka, India, Thailand and nine other countries.