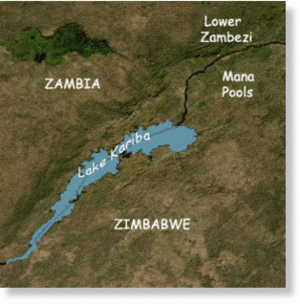 Earthquake overview :
Moderate shallow earthquake in a location with very few prior earthquakes. Earthquake-Report.com calls this earthquake moderately damaging as the houses are not prepared to resist earthquakes and as the epicenter location is surrounded by many villages.
22/07-08:17 UTC :
Felt reports from the epicenter area. "It was very bad in itezhi tezhi, some buildings have developed cracks.Thanks heavens that no damage was done to humans so that we can VOTE (ER: there are soon elections in Zambia)." "The tremor was at 15:56 hours. Two of my office glass panes cracked."
22/07-08:06 UTC :
In local media a fierce discussion is going on to find out why this earthquake happened. Some people blame the Itezhi Tezhi Dam project. Below are 2 people with a diffrent opinion on the origin of this earthquake.
Lemekani Phiri : "The tremor was located in Itezhi-Tezhi district. This is due to the man-made lake there. The weight of the new water body and lubrication of formerly idle faults by the water most likely caused it. And yes, Zambia has the ability to measure (so called Richter scale) and accurately locate the quake. Check with the Geological Survey Zambia. There have been such tremors infrequently since the completion of the lake construction."
"We've always have tremors in Zambia even before the Kariba was made. Its just that they are not as often as those in Asia and South Europe. In Zambia they are like a comet, a rare phenomenon. How do you explain the one that took place in Mocambique and Zim? I think it has something to do with the rift valley. The only advice I can give is for those building houses to put up strong ones. Let's take a leaf from Japan. Thank God no major damages nor serious injuries reported."