No alarm on every aspect: stable polar ice, normal sea level rise, no consensus, growing snow cover, less tropical storms, tornadoes, shrinking deserts, global greening, predictions wrong, models flawed, climate driven by sun, ocean cycles, biodiversity, warmer 1000 years ago...etc...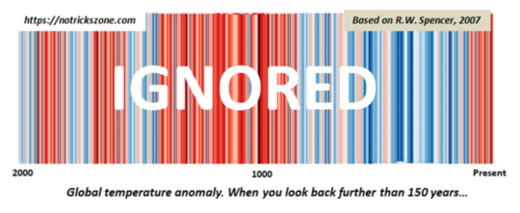 2019 saw a great amount of new science emerge showing that there's nothing alarming or catastrophic about our climate.
Some 2019 scientific findings
Need to make a presentation showing there is no climate alarm? The following findings we reported on in 2019 will put many concerns to rest.
Hundreds of peer-reviewed papers ignored by media
What follows are some selected top science-based posts we published here at NoTricksZone in 2019. These new findings show there is absolutely no climate alarm.
Hundreds of new peer-reviewed papers, charts, findings, etc - which the IPCC, activists and media ignore and even conceal. No wonder they've gotten so shrill.