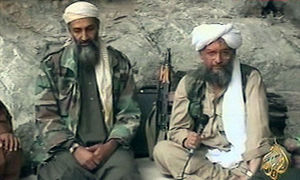 In his latest
fireside chat
with the western world, Osama has, yet again, gone to great lengths to support the "war on terror" propaganda of the Bush government.
Let's have a look at some excerpts:
[...] "I plan to speak about the repeated errors your President Bush has committed in comments on the results of your polls that show an overwhelming majority of you want the withdrawal of American troops from Iraq. But he (Bush) has opposed this wish and said that withdrawing troops sends the wrong message to opponents, that it is better to fight them (bin Laden's followers) on their land than their fighting us (Americans) on our land."
Indeed, Bush did say that the invasion of Iraq was about fighting the "war on terror" and that al-Qaeda is in Iraq. So we would of course expect Osama to counter such claims and tell us the real reason for the US invasion of Iraq, right? Think again, this guy isn't getting paid to contradict the Bush government!
Osama: "I can reply to these errors by saying that war in Iraq is raging with no let-up, and operations in Afghanistan are escalating in our favor, thank God"