The BBC reports
that Israeli newspapers have printed photos of Defence Minister Amir Peretz trying to watch military manoeuvres through binoculars with the lens caps still on.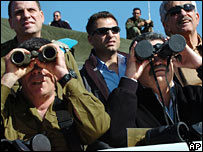 ©BBC
According to the photographer, Mr Peretz looked through the capped binoculars three times, nodding as Gen Ashkenazi explained what was in view.
He is not the first politician to demonstrate so graphically how out of touch with reality they really are. For example, George Bush was caught in the exact same gaffe: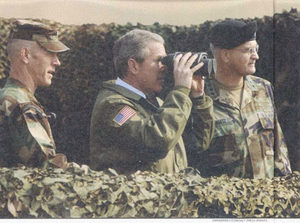 ©AP
George Bush at the Korean DMZ in 2002. Another photo later in the sequence showed the lens caps removed, so someone apparently figured it out.
Now, don't go sending me the Snopes "debunking" links. Snopes didn't debunk this photo. They admit that they don't know whether the photo is real or manipulated.