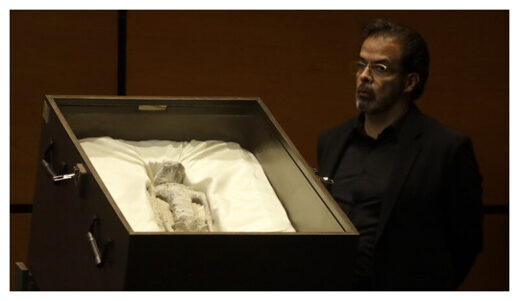 The discovery could "rewrite history," a controversial researcher told officials.
Two supposedly "non-human" mummified alien corpses were displayed to lawmakers in Mexico City
on Wednesday by a self-proclaimed UFO expert, who said analysis of the specimens had shown them to not be part of humanity's "terrestrial evolution."
The two diminutive humanoid bodies, which have three-fingered hands and appear to have stereoscopic vision, were discovered in algae mines in Peru, journalist and ufologist Jaime Maussan said as part of the presentation. He added under oath his belief that the corpses, which were carbon-dated as being around 1,000 years old, are not of terrestrial origin.
"These specimens are not part of our terrestrial evolution," Maussan said at the public hearing. "These aren't beings that were found after a UFO wreckage. They were found in [algae] mines, and were later fossilized."
He added: "Whether they are aliens or not, we don't know, but they were intelligent and they lived with us. They should rewrite history."