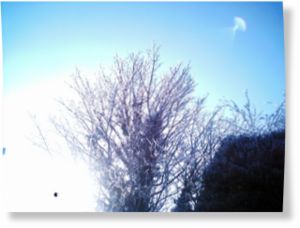 A mysterious object spotted sailing across the sunny skies of Purley has left residents and a UFO expert scratching their heads.
The blurry entity was snapped by John Barrett, 48, as he was walking across Higher Drive Recreation Ground at about 1.25pm last Friday.
His wife Claire, 42, then sent the picture to the
Advertiser
.
She said: "My husband was taking a walk and looked up at the trees covered in frost from the ice and snow lately, then spotted something moving steadily in the sky.
"It basically kept moving and eventually disappeared in the distance and faded away."