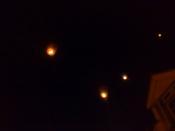 ©Unknown
UFO experts have described Shropshire as a hive of activity and believe something "big" is going on in the county.
Following dozens of reports of unidentified lights in the sky over the past three months Philip Hoyle, of the UFO Investigation and Research Unit, has revealed that an investigation is under way. It is focusing on the Hope and Rea Valleys in the south of the county.
Farmers in the area reported finding a number of mutilated animals after seeing strange lights.