Middletown, Pa. - UFOs over Don Pablo's? Aliens making pitstops at the Oxford Valley Mall, perhaps trying to steal bagels from Panera?
The Mutual UFO Network (MUFON) has sent field investigators to check out three reports of strange crafts or lights flying over Lower Bucks County, a spokesman said yesterday.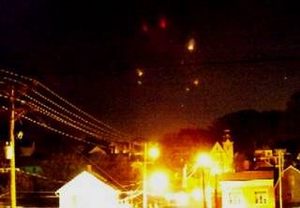 ©Unknown
These illuminated dots in the sky over the Oxford Valley Mall could be UFOs or just reflections on the camera lens, MUFON's George Filer said.
"I got calls from radar operators last night telling me about radar contacts with UFOs, so there's been other radar confirmation of a number of the sightings in Bucks County," said Air Force (Ret.) Major George Filer, East Coast regional director and New Jersey state director of MUFON.