For some time, scientists have blamed Alzheimer's disease on a small molecule called amyloid beta protein (A beta) that leaves large gummy deposits in the brain. Recent studies suggest that these A beta proteins stick together to form floating toxic clumps that kill brain cells. Now, UCLA scientists have identified a tiny loop in A beta as the likely culprit behind the adhesion process.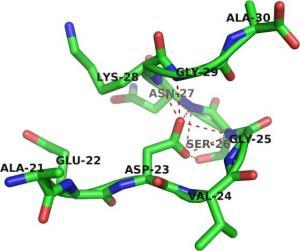 ©University of California
Amyloid Protein Loop. Broken red lines indicate a loop in the amyloid B-protein that enables it to attach to other proteins and form clumps that kill brain cells.