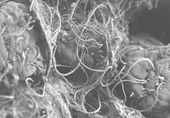 Medical researchers have long suspected that obscure bacteria living within the intestinal tract may help keep the human immune system in balance. An international collaboration co-led by scientists at NYU Langone Medical Center has now identified a bizarre-looking microbial species that can single-handedly spur the production of specialized immune cells in mice.
This remarkable activation of the immune response could point to a similar phenomenon in humans, helping researchers understand how gut-dwelling bacteria protect us from pathogenic bacteria, such as virulent strains of
E. coli
. The study, published in the Oct. 30, 2009, issue of
Cell
, also supports the idea that specific bacteria may act like neighborhood watchdogs at key locations within the small intestine, where they sense the local microbial community and sound the alarm if something seems amiss.
In mice, at least, the newly identified neighborhood watchdog looks like something out of Disney's
The Shaggy D.A
. Distinguished by long hair-like filaments, "These bacteria are the most astounding things I've ever seen," says Dan Littman, MD, PhD, the Helen L. and Martin S. Kimmel Professor of Molecular Immunology and a Howard Hughes Medical Institute Investigator.