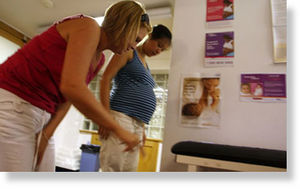 Those from poor, African American and Native American backgrounds most at risk.
The death rate of women giving birth in the US is worse than in 40 other countries, including nearly all the industrialised countries, Amnesty International said today in a report that describes the country's approach to maternity care as "disgraceful and scandalous".
According to the World Health Organisation (WHO), the likelihood of a woman dying in childbirth in the US is five times greater than in Greece.
The US has some of the best medical care in the world, but Amnesty says the lives of poor, uninsured, African American and Native American women are put at risk by neglect.
"This country's extraordinary record of medical advancement makes its haphazard approach to maternal care all the more scandalous and disgraceful," said US Amnesty executive director Larry Cox. "Good maternal care should not be considered a luxury available only to those who can access the best hospitals and the best doctors. Women should not die in the richest country on earth from preventable complications and emergencies.