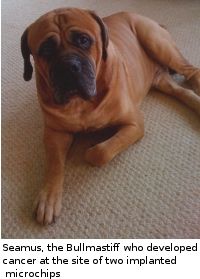 Owners, Medical Reports Point to Link Between RFID Chips and Cancers in Canines
Highly aggressive tumors developed around the microchip implants of two American dogs, killing one of the pets and leaving the other terminally ill. Their owners --- and pathology and autopsy reports --- have suggested a link between the chips and the formation of the fast-growing cancers.
In the town of Paeonian Springs, Va., a five-year-old male Bullmastiff named Seamus died in February, nine months after developing a "hemangio-sarcoma" --- a rare, malignant form of cancer that strikes connective tissues and can kill even humans in three to six months. The tumor appeared last May between the dog's shoulder blades where a microchip had been implanted; by September, a "large mass" had grown with the potential to spread to the lungs, liver and spleen, according a pathology report from the Blue Ridge Veterinary Clinic in Purcellville, Va.