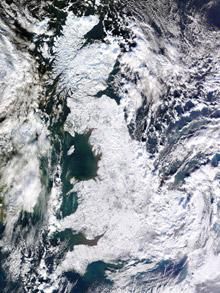 As if dusted with icing sugar, this satellite image of Britain shows the full extent of the snow coverage affecting the country.
From head to toe there is barely a patch of land not blanketed by the heaviest snowfall in 50 years.
It was taken at 11.15am on Thursday by the NASA satellite Terra and transmitted to the University of Dundee Satellite Receiving Station.
The image gives an impression of just how deep with snow has been across most parts, including the southern belt of England: parts of Hampshire received more than 16 inches in just a few hours earlier this week.
Only the western coastal extremes, such as Dorset's Isle of Purbeck in the south and more surprisingly Jura and Islay in the Inner Hebrides, have escaped widespread coverage.
The picture also demonstrates how little thawing has taken place, as most of the snow lying across lowland parts fell on Tuesday and Wednesday.