Earth Changes
EXTREME FLOODING
YouTube
Thu, 13 May 2021 14:49 UTC
---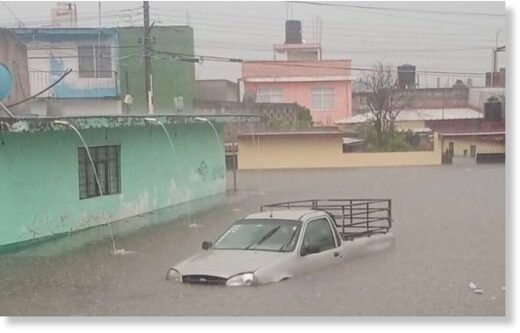 After heavy overnight rains, several areas of the Valley of Mexico were flooded Thursday, prompting protests from affected residents who say that the situation keeps happening.
The Valley of Mexico, a region that includes Mexico City and the states of Mexico, Hidalgo, and Tlaxcala, accumulated large amounts of water, causing roadblocks, and flooding of the subway network, businesses and private homes, a situation also experienced in areas of states such as Jalisco and Veracruz.
The capital and the state of Mexico were most affected by the red alert due put in place.
The east of Mexico City and the neighboring area of the state of Mexico required urgent action from the authorities, and water system officials attended various areas to try to deal with the floods, which persisted Thursday afternoon.
---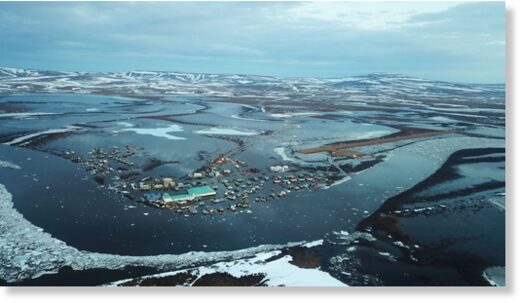 An ice jam downstream from Buckland has caused significant flooding throughout the Northwest Alaska village.
Water levels began to rise Wednesday night and were continuing to rise Thursday, said Karen Endres, a hydrologist with the National Weather Service in Fairbanks.
Ice jammed on the Buckland River about a half-mile downstream from the village of more than 400 people, said Jeremy Zidek, a spokesman for the state Division of Homeland Security and Emergency Management.
Flood waters hit the bottom of most homes in the village but hadn't yet flooded into homes by Thursday afternoon, Zidek said. Utility services were not impacted so far, he said.
---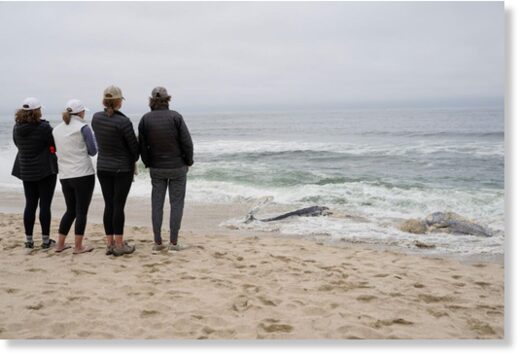 A dead gray whale washed ashore on Tuesday evening at Francis State Beach in Half Moon Bay. It had disappeared by Thursday morning, officials say, but much of the remains had drifted back to shore by this afternoon.
The California Academy of Sciences received reports of the whale from California State Park rangers on Tuesday, said Marine Mammal Center spokesman Giancarlo Rulli. By the time an expert from the academy arrived at the beach Thursday morning, the decomposing whale was gone.
Because no necropsy was performed, experts don't know how it died or how old it was. The whale's appearance is the latest in a slew of sightings over the last five months. This was the eighth gray whale to wash ashore in the Bay Area since April 1. An adult female gray whale was found beached at the Fitzgerald Marine Reserve on April 3.
---
Richard Davies
Floodlist
Fri, 14 May 2021 13:10 UTC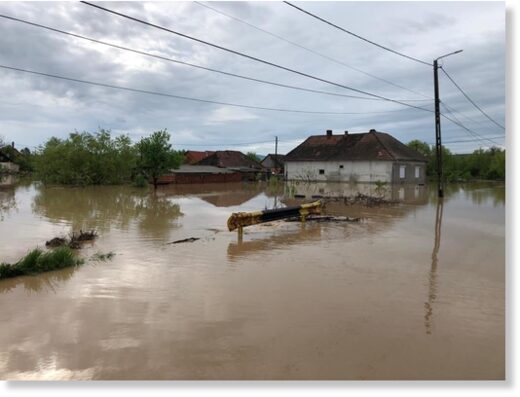 A short period of torrential rain early on 13 may 2021 caused severe flash flooding in parts of northern Romania.
Local authorities in Satu-Mare County reported severe flooding in Răteşti and Supur. Authorities said tributaries of the Crasna river had broken their banks
after 70 mm of rain fell in 3 hours early 13 May. The flooding was described as the worst in 20 years. Flood water was reportedly up to waist height.
As of 13 May, around 150 people had evacuated flooded homes in Răteşti and nearby Beltiug. Flooding in areas of Supur affected 49 households, with 7 people temporarily evacuated.
Tánczos Barna, Minister of Environment, Waters and Forests, visited the affected areas. He said the volume of rainfall in such a short period is unprecedented in this region.
Hundreds of livestock have been lost and over 1,000 affected households
, some of them isolated. "It is practically a miracle that we have no loss of human lives," the Minister added.
---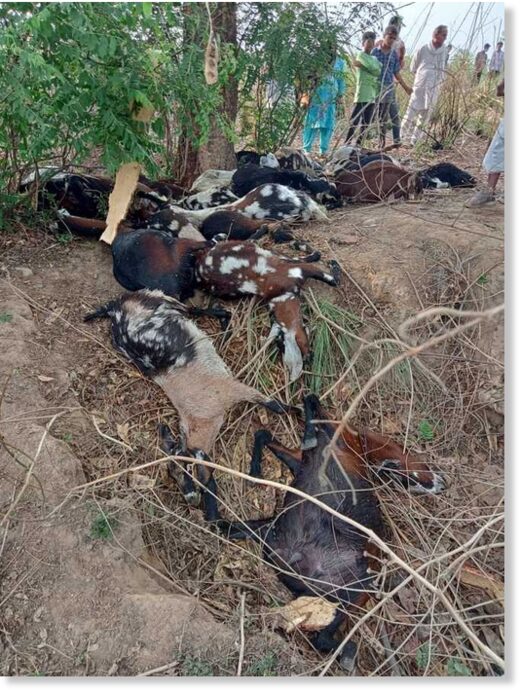 As many as 22 goats died when a tree under which they were standing was struck by lightning in Pirthipur village of Yamunanagar district.
The incident took place when Fazla of Taharpur Kalan village, Yamin and Shakeel, both residents of Jaitpur village, were grazing their goats in Pirthipur village on Wednesday afternoon.
A source said three goats of Fazla, Yamin and Shakeel were standing under a tree to take shelter from the rain. "In the incident 22 goats died and one had a narrow escape," the source added. The source said a veterinary doctor, a patwari and policemen visited the spot after getting the information of the incident to take stock of the loss.
---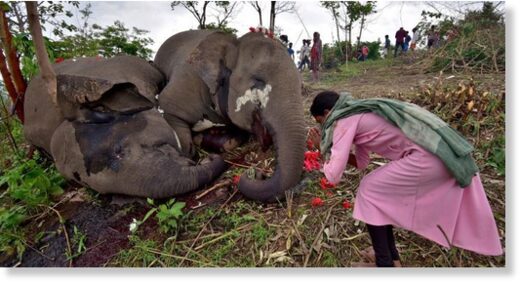 A bolt of lightning is believed to have killed a herd of at least 18 elephants in central Assam's Nagaon district on Wednesday night.
The incident happened in the hilly Kandali Proposed Reserve Forest in the Forest Department's Kathiatoli Range, officials said.
"The local staff said 18 elephants have died and lightning is most likely the cause," Assam's Chief Wildlife Warden, M.K. Yadava told
The Hindu.
"There have been cases of lightning striking animals down. Lightning claimed five elephants in West Bengal some time ago, but this is huge," he said.
---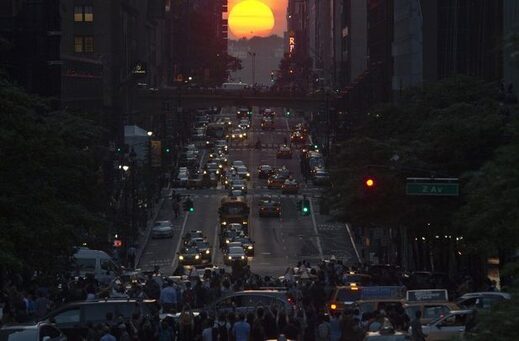 On May 12, a weak Coronal Mass Ejection (CME) released from the Sun hit Earth. The event was supposed to pass by uneventfully — it would perhaps spark a few auroras, but nothing more. So how did a strong G3 geomagnetic storm ensue?
Nobody was expecting a level 3 event from this CME.
Nobody saw the KP Index hitting 7.
---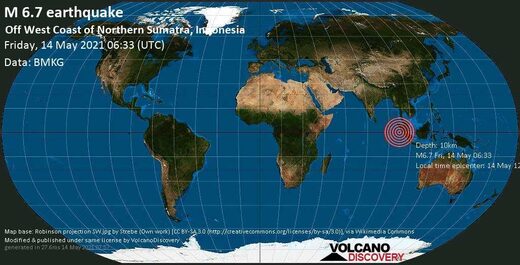 An earthquake of magnitude 6.6 struck off the northwest coast of Indonesia's Sumatra island on Friday, the GFZ German Research Center for Geosciences (GFZ) said.
The Indonesia earthquake was at a depth of 10 km (6.21 miles), GFZ said.
Indonesia's weather and geophysics agency, BMKG, put the quake at 7.2 magnitude and at a depth of km but said it had no potential to trigger a tsunami wave.
On Dec. 26, 2004, a 9.1 magnitude quake off the coast of northwest Sumatra triggered a tsunami that killed more than 230,000 people in Indonesia, Sri Lanka, India, Thailand and nine other countries.
---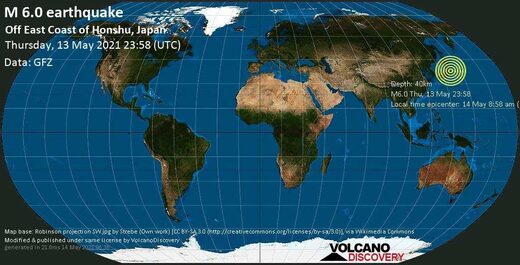 A magnitude 6.0 earthquake has rattled northeastern Japan, but authorities have not issued a tsunami warning.
There were no immediate reports of casualties or damage to property on Friday and no abnormalities were found at the region's nuclear power facilities, including the crippled Fukushima Daiichi Nuclear Power Station, according to the Nuclear Regulation Authority.
The quake occurred at 8.58am (0958 AEST), its epicentre off the coast of Fukushima prefecture at a depth of 40 kilometres, the Meteorological Agency said.
In February, a magnitude-7.3 quake also struck the northeast, killing one person and injuring about 190 others.
Japan recently observed the 10th anniversary of the magnitude 9.0 quake and resulting tsunami in the same region on March 11, 2011, which left about 18,400 dead or missing.
---