To the surprise of many, the earthquake on April 18, 2008, about 120 miles east of St. Louis, originated in the Wabash Valley Fault and not the better-known and more-dreaded New Madrid Fault in Missouri's bootheel.
The concern of Douglas Wiens, Ph.D., and Michael Wysession, Ph.D., seismologists at Washington University in St. Louis, is that the New Madrid Fault may have seen its day and the Wabash Fault is the new kid on the block.
Comment:
Or perhaps it wasn't a 'natural' earthquake, but
something else
, like an overhead explosion?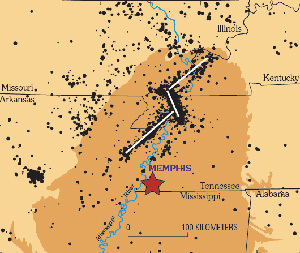 ©CERI
Map of the region surrounding Memphis, TN. Darker orange area is covered by think sediments called the Mississippi embayment, that affect how the ground shakes during earthquakes. White lines indicate likely locations of faults, and black dots show the locations of earthquakes since the mid-1970s.