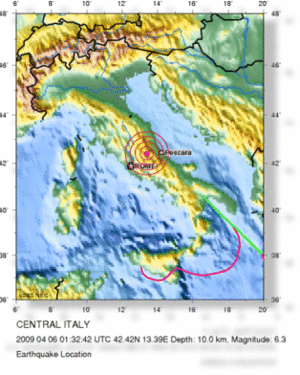 An earthquake measuring 6.3 on the Richter scale rocked central Italy on Monday and was felt in the capital Rome, but there was no immediate word of any casualties.
Some residents in the city of l'Aquila, east of Rome in the mountainous Abruzzo region, ran out into the streets and there were reports of wide cracks in some homes.
The U.S. Geological Survey said the epicenter of the quake, which struck at about 3.35 a.m. (0135 GMT), was believed to be some 53 miles northeast of Rome. It initially put the scale of the quake at 6.7 but later lowered it 6.3.