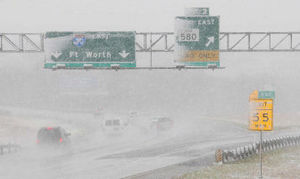 A Christmas Eve blizzard made a mess of holiday travel plans, stranding motorists, forcing flight cancellations, canceling church services and raising concerns about roadways on Christmas morning.
Bridges to D/FW Airport terminals were reported closed early today due to the icy road conditions, Fox 4 News said. The National Weather Service said the icy roads would persist into the mid- to late-morning hours, making for hazardous driving conditions, especially on bridges and under overpasses. The airport was hoping to reopen bridges by noon, Fox 4 said.
Despite the winter weather havoc, many North Texans were excited about waking up to a very rare event: a white Christmas. Snow fell heavily through the day and early evening Thursday, and overnight temperatures in the 20s made it possible for the fluffiness to stick around. Sunny skies and higher temperatures should melt the snow away by late-morning, the weather service said today.
More than 2 inches of snow was recorded at Dallas/Fort Worth Airport on Thursday, according to the weather service. Areas to the northwest were walloped, with 8 inches falling in Nocona in Montague County and 5 to 6 inches in Wichita Falls.
Gusts of 50 mph caused blizzard conditions rarely seen in North Texas.
"It's extremely rare," said Daniel Huckaby, a weather service meteorologist in Fort Worth. "To get both the heavy snow and high winds that cause a blizzard is a very unique event here in Texas."
Dallas-Fort Worth last flirted with a snowy Christmas in 2004 and 1997.
But the last time the Metroplex was socked with a true, New England-style dose of snow on Christmas Day was Dec. 25, 1926.
"I think it's more in the Christmas spirit. It is beautiful," said Connie Smith, 41, of Fort Worth, who loaded groceries from Central Market into her car during the snowstorm. "I can't believe it was 70 yesterday and snowing today."
However pretty, the storm caused headaches for holiday travelers. Some highways were clogged with snow, and jackknifed 18-wheelers. At D/FW Airport, 150 flights were canceled, and 18 other aircraft had to be diverted to another airport Thursday.
Those scheduled to fly out today were advised to check D/FW's Web site or call their airline to check on delays before heading to the airport.
Treacherous roads
In Cisco, about 110 miles west of Fort Worth, the closure of Interstate 20 prompted authorities to seek shelter for stranded motorists.
"With four-wheel drives, they're going around and pulling people out of ditches and getting them moving again. The ones that end up in town, they just call around to churches and schools and wherever they can get inside," said Sandra Parker, a Texas Department of Transportation spokeswoman based in nearby Brownwood.
Near Wichita Falls, blizzard conditions pummeled the area around lunchtime, stranding travelers in ditches and causing long traffic jams. Visibility was down to about 100 yards, authorities said.
"We've got cars in bar ditches, cars in parking lots that can't get out - it's not a pretty sight," said Department of Public Safety senior trooper Tony Fulton
Fort Worth residents Gary and Stasia Guess and their two children had spent 24 hours straight in their car navigating blizzard conditions in West Texas on their way home from a ski trip in Colorado.
They left the ski park at 3 p.m. Wednesday and, as of 4 p.m. Thursday, were on U.S. 287 still 71 miles from their Ryan Place home.
"It was snowing lightly in Colorado and New Mexico but, once we got to Texas, it was a total blizzard," Stasia Guess said on her cellphone. "The wind is blowing so hard I thought our car would tip over. People are stranded everywhere."
Before they left Colorado, she said, she wrapped some Christmas gifts for the kids, Gabbye, 11, and Grayson, 8.
"To pass the time, they open one every five hours," she said.
In Fort Worth, 284 traffic accidents were reported between noon and 7 p.m, according to police records.
Military activated
On Thursday afternoon, Gov. Rick Perry activated some military personnel and high-profile vehicles to assist motorists. Perry cited blizzard conditions on stretches of U.S. 84 in Garza County, where extensive power outages were causing major problems.
Some wrecks in Eastland County occurred on hilly portions of the highway without service roads, making it hard for emergency personnel to reach them, said Mark Shipman, a regional liaison officer with DPS emergency management.
"We've got people we're trying to reach right now," he said Thursday afternoon.
No blizzard warning had ever been issued for an area of Texas as far south as Interstate 20, said Jim Wingenroth, senior forecaster at the National Weather Service office in San Angelo.
Texas Department of Transportation maintenance workers were treating bridges and overpasses with the anti-icing liquid magnesium chloride, agency spokesman Val Lopez said.
But crews were having difficulty working north on U.S. 287 because of snow accumulation.
Crews planned to work overnight and into Christmas morning, he said. The high winds Thursday might actually prevent some icing early Friday because they helped dry some of the moisture on the roads.
However, anyone planning to travel Christmas morning would be wise to stay home, he said.
"It will still be very slick," Lopez said. "I would wait until later in the day when things start to melt before going anyway. Since it is a holiday, we don't think we will have as many people on the roads."
As of late Thursday afternoon, the storm had knocked out power to about 2,600 customers, most of them in the western part of the Metroplex, according to Oncor. Crews were working to restore power.
Last-minute shopping
The weather prompted many North Texans to shut down their last-minute shopping plans a bit early.
Linda Govea of Benbrook braved a shivering wind and wintry mix of rain and snow to pick up some things at James Avery Craftsman in the Chapel Hill Shopping Center of west Fort Worth.
She said she got an early start Thursday after learning about the weather forecast.
"As long as it's not sticking, and it's not dangerous or hazardous to drive, I'm going to finish my Christmas shopping," she said. "It's a pleasant surprise to have snow on Christmas."
A smattering of shoppers bustled through the west-side shopping area, but shopkeepers said the traffic was much slower than on Wednesday.
Many stores had signs indicating plans to close early Thursday afternoon, but managers were monitoring the weather to decide whether to shut their doors even earlier.
Dana Graham, owner of WhatchamaCallit, which sells women's designer clothes, had not had a single shopper by 11:30 a.m. and planned to close about 1 p.m.
"Today, there's been nothing," she said. "It's been really quiet. I shouldn't have even opened."