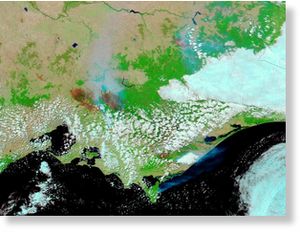 Bushfires in southeastern Australia turned deadly over the first weekend of February 2009. Out-of-control fires raced into small communities and towns in Victoria, and more than 100 people had died as of February 9, according to news reports.
The Australian Broadcasting Corporation (ABC News) reported that many of those who died had remained to protect their homes.
Among the most devastated communities were those in the Kinglake area and Marysville. As of February 9, firefighters were expressing concern about the increased activity of the fire around the town of Dederang, southwest of Lake Hume.