Earth Changes
---
Western U.S. Snowpack Healthiest in a Decade
An analysis by
NOAA's National Climatic Data Center
shows that the average temperature for March in the contiguous United States ranked near average for the past 113 years. It was the 63rd warmest March since record-keeping began in the United States in 1895.
The average global land temperature last month was the warmest on record and ocean surface temperatures were the 13th warmest. Combining the land and the ocean temperatures, the overall global temperature ranked the second warmest for the month of March. Global temperature averages have been recorded since 1880.
The complete analysis is available
online
.
---
== PRELIMINARY EARTHQUAKE REPORT ==

Region: OFF COAST OF OREGON
Geographic coordinates: 42.967N, 126.747W
Magnitude: 4.1 Mb
Depth: 10 km
Universal Time (UTC): 22 Apr 2008 03:17:04
Time near the Epicenter: 21 Apr 2008 19:17:04
Local standard time in your area: 22 Apr 2008 03:17:04

Location with respect to nearby cities:
185 km (115 miles) W (278 degrees) of Port Orford, OR
191 km (118 miles) W (266 degrees) of Bandon, OR
201 km (125 miles) WNW (289 degrees) of Gold Beach, OR
249 km (155 miles) NW (304 degrees) of Crescent City, CA
433 km (269 miles) SW (230 degrees) of Portland, OR
---
A fire gutted the Glyndon United Methodist Church back in 1929, and for a few tense moments late Sunday, it appeared history would repeat itself.

"We had a terrible crack of lightning," said parishioner Marti Clements, "It sounded very, very close, and so we came and there were flames coming out."

The lightning had struck the church steeple, sparking the roof and an interior chamber, which houses the church bell.

Pastor Norman Obenshain was visiting a parishioner in an emergency room when his wife reached him on his cell phone.
Comment:
There are other things that sounds like a crack of thunder (although the article says "crack of lightning" and starts fires. A cometary fragment. The fire investigators have not yet confirmed what did start the fire, but one has to wonder if they will even think about a cometary fragment at all since we have been conditioned NOT to think of this likely scenario.
As we saw in
Comet Biela and Mrs. O'Leary's Cow
comets can start lots of fires.
Hmmmm. And investigators never seem to go with this line of thought. Instead they blame the fires on lightning and farmers burning fields; always steering us away from comets - even when fireballs have been reported.
It would almost seem as if someone is trying to hide something.
---
A pair of rubber thongs have been credited with saving Tiahnee Kerewaro's life after she was struck by lightning in her front yard last week.

Tiahnee was told by medical staff she was lucky to be alive when lightning struck the umbrella she was holding while walking from her car to her house eight days ago.

The 20-year-old Airds woman was thrown more than a metre by the strike, which entered her body through her thumb and exited via her shoulder.
---
Given the Right and their "thnuk tanks" concede the Green's lie, man causes globular warming and climatically sheet changing via carbon emissions, this is pertinent:
Research Scientist Dr. Roy W. Spencer (the University of Alabama),
is so disturbed by the lies governments
are using as an excuse to impose destructive policies that he has taken to public polemics. He has been engaged in the fight since at least 2004. His effectiveness is indicated by the sheer number of hardcore Leftists who expend many words smearing him, as even a cursory google search shows.
---
Many of the birds that migrate to Britain and Europe from Africa every spring, from the willow warbler to the cuckoo, are undergoing alarming declines, new research shows.

The falls in numbers are so sharp and widespread that ornithologists are waking up to a major new environmental problem - the possibility that the whole system of bird migration between Africa and Europe is running into trouble.
---
Indonesian authorities raised the alert level on a volcano near the country's third largest city, the state volcanology office said Thursday.

"Since April 16, 2008, at 12:00 am (0500 GMT), we have upgraded the alert level of (Mount) Papandayan to 'vigilance' (level two)," a statement on the volcanology office's website said.

The alert level for the mountain, near the city of Bandung, is now two rungs below that for an impending eruption.

Papandayan rises 2,665 metres (8,743 feet) above sea level and is 51 kilometres (31.5 miles) southeast of Bandung city, which has a population of three million, while the greater Bandung area is home to about 4.5 million.
---
Data from faint earth tremors caused by wind-driven ocean waves -- often dismissed as "background noise" at seismographic stations around the world -- suggest extreme ocean storms have become more frequent over the past three decades. The International Panel on Climate Change (IPCC) and other prominent researchers have predicted that stronger and more frequent storms may occur as a result of global warming trends. The tiny tremors, or microseisms, offer a new way to discover whether these predictions are already coming true, said Richard Aster, a geophysics professor at the New Mexico Institute of Mining and Technology.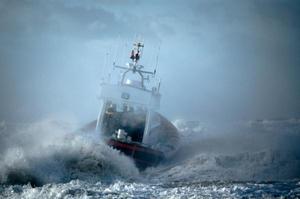 ©iStockphoto/Eric Gevaert
Data from faint earth tremors caused by wind-driven ocean waves -- often dismissed as "background noise" at seismographic stations around the world -- suggest extreme ocean storms have become more frequent over the past three decades.
---
Three people were killed and 40 fishermen including 22 Vietnamese went missing after typhoon Neoguri hit south China on the weekend, national media said on Monday.

Two of the victims, an 80-year-old woman and an 11-year-old girl, died in a mudslide in Shenzhen on Sunday, and the third was killed in Zhuhai by an aluminum sheet that was blown off a roof by high winds, Xinhua news agency reported.
---