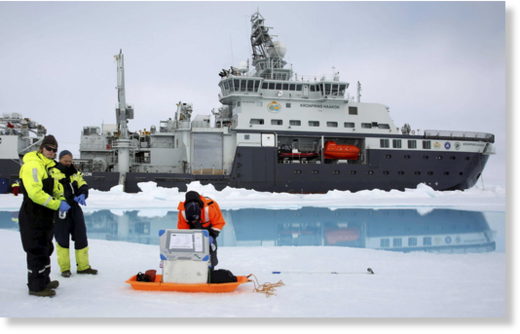 Ice too thick to break through (almost 10 ft thick), and more massive than expected - in the middle of July.
_________
15 July 2019 - The Norwegian icebreaker "Kronprins Haakon" (
Crown Prince Haakon
), on a mission to the North Pole for the Institute of Marine Research, was forced to turn back north of Svalbard after meeting considerably thicker and more massive ice masses than expected, which the vessel was not capable of breaking through.
Thick one-year ice combined with large batches of multi-year ice joined together into powerful helmets, and several of these are impenetrable to us, said Captain Johnny Peder Hansen.
The ice is up to three meters (almost 10 feet) thick in the middle of July, and not even the researchers' long special-purpose chainsaws were able to penetrate the ice.