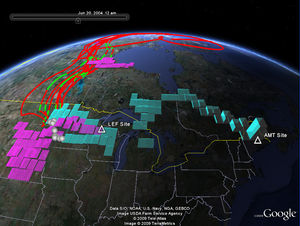 Sometimes a picture really is worth a thousand words, particularly when the picture is used to illustrate science. Technology is giving us better pictures every day, and one of them is helping a NASA-funded scientist and her team to explain the behavior of a greenhouse gas.
Google Earth -- the digital globe on which computer users can fly around the planet and zoom in on key features -- is attracting attention in scientific communities and aiding public communication about carbon dioxide. Recently Google held a contest to present scientific results using KML, a data format used by Google Earth.
"I tried to think of a complex data set that would have public relevance," said Tyler Erickson, a geospatial researcher at the Michigan Tech Research Institute in Ann Arbor.