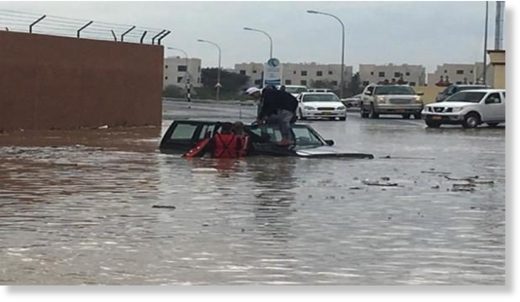 Residents were left stranded as heavy rain and snow have blocked roads
Temperatures in some parts of Oman dropped to below zero on Wednesday as heavy rain caused flooding across the Sultanate and residents are braced themselves for a further downpour.
The Oman Meteorological office said temperatures had dropped to
-2°C degrees on Wednesday in Jabal Shams,
the tallest peak in the Arabian Peninsula, which is located in the north-eastern region of Oman. The temperature in the same area last year hovered around 5°C.
Residents living near the 3,000 metre peak said heavy rain and snow have blocked roads and left most of them stranded in their homes.
"We will run out of food if the bad weather continues. The lower areas of the town are flooded with rainwater and higher areas are full of snow. We will have to wait and see what happens in the next 24 hours," Firas Al-Ruqaishi, 42, a farmer at Jabal Shams, told
The National
over the phone.