Pasadena, Calif. -- The latest image of sea-surface height measurements from the U.S./French Jason-1 oceanography satellite shows the Pacific Ocean remains locked in a strong, cool phase of the Pacific Decadal Oscillation, a large, long-lived pattern of climate variability in the Pacific associated with a general cooling of Pacific waters. The image also confirms that El Niño and La Niña remain absent from the tropical Pacific.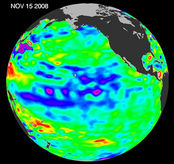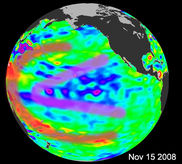 The new image is available online
here
.
The image is based on the average of 10 days of data centered on Nov. 15, 2008, compared to the long-term average of observations from 1993 through 2008. In the image, places where the Pacific sea-surface height is higher (warmer) than normal are yellow and red, and places where the sea surface is lower (cooler) than normal are blue and purple. Green shows where conditions are near normal. Sea-surface height is an indicator of the heat content of the upper ocean.