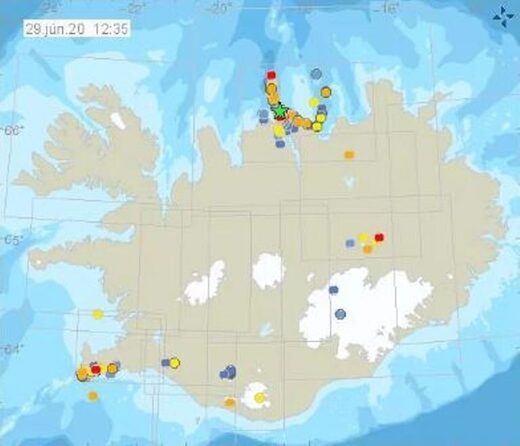 An ongoing earthquake swarm in Iceland has now reached around 9,000 quakes, officials have said. The swarm, in the north of the country, began on June 19. Experts with the Iceland Meteorological Office (IMO) said activity is ongoing and more earthquakes can be expected.
In an updated statement on the IMO website, officials said there were two events above magnitude 3 on June 28. Both these earthquakes were felt in Siglufjordur and Ólafsfjordur — towns near to where they hit.
The IMO said that of the 9,000 earthquakes, three have been above magnitude 5. This includes a magnitude 5.8 earthquake on June 28. It said there is a chance of more earthquakes of this magnitude in the area.
What is causing the earthquake swarm is not known. Kristín Jónsdóttir, Earthquakes Hazards Officer for the IMO, told the Icelandic National Broadcasting Service RÚV:
"We're trying to figure out what's going on."
She said the earthquakes are shallow and it could be that they are related to geothermal production in the region, as they are located near a geothermal power plant.