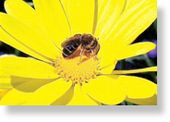 Honey isn't the only thing we'd miss if bees completely disappeared.
"Bees are a profound part of the ecosystem, much more than we ever thought," said Rowan Jacobsen, whose chilling new book,
The Fruitless Fall: The Collapse of the Honey Bee and the Coming Agricultural Crisis
(Bloomsbury), gives us a taste of a world without honey, not to mention other goodies bees make possible. The tall, lanky 40-year-old author talked with me at a new East Village restaurant fittingly called Apiary while promoting his book in New York.
Fruitless Fall details the recent rise of colony collapse disorder. Bees, around for the past 100 million years, have been mysteriously dying in droves -- about 30 billion worldwide last year alone.