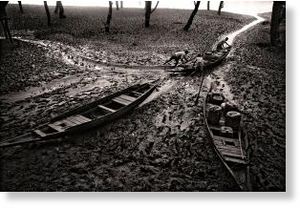 Bangladesh has a complex and increasingly difficult relationship with water. Among the factors contributing to this are climate change, catastrophic flooding, coastal erosion and the pollution of drinking wells by natural arsenic.
Now photographer Munem Wasif has brought to light another growing problem that is already affecting hundreds of thousands of people in the Satkhira region of south-west Bangladesh: increasingly salty groundwater.
See Wasif's
images
.
This rise in salinity has been caused by a shift from traditional agriculture to commercial shrimp farming. The latter can generate a lot of money for a fortunate few, but for most its consequences are disastrous. Once-fertile land turns to brackish water and local people lose access to drinking water and their livelihoods.