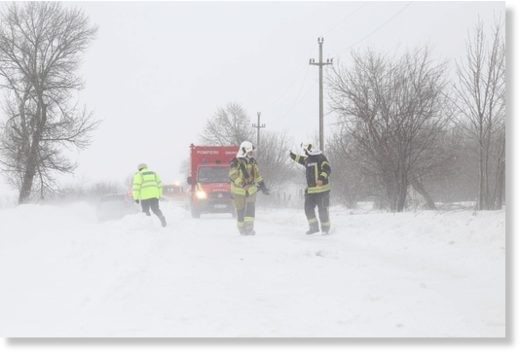 Roads and railways have closed, trains have been canceled and schools have closed across the country after the recent snowfall and blizzard.
The A2 highway, linking Bucharest to Constanța, a city on the Romanian Black Sea coast, closed on the evening of February 5 because of the blizzard,
G4media.ro reported.
In Buzău, Brăila, Ialomița and Tulcea counties, all national and county roads were closed between 22:00 and 08:00 for all vehicles, except the intervention ones.
In Harghita and Covasna counties segments of national roads were closed for traffic after trees fell onto the roads, while the blizzard closed national roads in Constanța county (DN 2A Hârșova - Ovidiu and DN22 Ovidiu - Tulcea). In Prahova county, the traffic was blocked on the national road DN1A Ploiești - Cheia because of the trees that had fallen down, while the DN 71 Sinaia - Moroieni was closed because of the blizzard.
Similarly, roads were closed in Galati county (DN24 D Galați-Bârlad) and in Călărași county (DN 3 Călărași - Lehliu - Fundulea, DN3A Fetești - Lehliu, DN 31 Oltenița - Călărași, DN 21 Călărași - Slobozia and DN 3B Călărași- Borcea) because of the blizzard.