DENVER - A powerful storm system raced across the nation Tuesday, spawning everything from heavy snow and numbing cold to thunderstorms and possible tornadoes, and forecasters warned more bad weather was on the way.
High winds associated with thunderstorms may have killed two people in Indiana, authorities said. Snow forced the closure of schools and highways in many areas, and avalanche warnings were issued for some Western regions.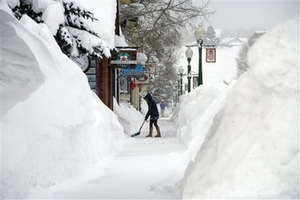 ©(AP Photo/Nathan Bilow)
Chelsea Yerdon from Crested Butte, Colo. shovels the front of the working establishments sidewalk wondering where to put the snow when the banks of the sidewalks are already eight feet high in Crested Butte, Colo. on Tuesday, Jan. 29, 2008.