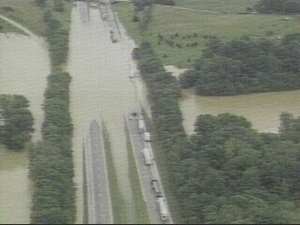 ©WRTV Photo
Flooding in Putman County has closed Interstate 70
Franklin, Indiana - Floodwaters forced countless residents from their homes, breached dams and closed portions of major highways,
yet officials said the worst could still come as rivers continued to swell in south-central Indiana.
Gov. Mitch Daniels declared emergencies in 10 counties Saturday, after storms dumped up to
10 inches of rain
on already soggy ground.