Researchers may have uncovered the reason why Earth's biodiversity mysteriously plummets periodically. They have found that a rollercoaster-like wobble in the sun's orbit around the center of the Milky Way galaxy regularly moves Earth closer to a source of dangerous intergalactic cosmic rays.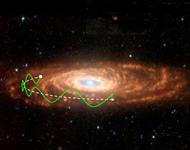 ©Mikhail Medvedev/University of Kansas
The solar system's rollercoaster-like path around the galaxy periodically makes it vulnerable to lethal radiation from intergalactic space.