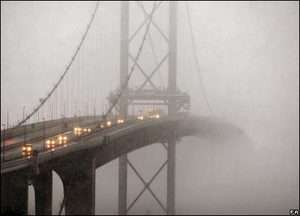 ©PA
The Forth Bridge was closed for a time by the bad weather
Passengers are being airlifted from a ferry in the Irish sea as high winds batter much of the UK, with forecasters warning of blizzards to come.
A 45-year-old lorry driver died on the M6 near Tebay, Cumbria, as his lorry overturned in gusts of up to 70mph.
The Port of Dover in Kent has reopened after gusts of up to 60mph forced it to close, causing widespread disruption.
In Wales some homes are without power and the Forth Road Bridge, west of Edinburgh, has reopened after a crash.
However, it remains closed to high-sided vehicles, caravans and motorcycles after a lorry earlier overturned in high winds.
In the Irish Sea, four passengers have been airlifted off a ferry which is listing to 60 degrees amid fierce storms. Still on board are 19 crew members who are attempting to restart the ship's engines, a spokesman for Lancashire Ambulance Service said.
The River Dance, a roll-on-roll-off ferry, ran into trouble eight miles west of Fleetwood. Sea King helicopters are taking those on board to Blackpool Airport.
About 1,000 homes were without power in Gwynedd and two schools, John Beddoes High in Presteigne and Whitton Primary schools in Powys, closed because of a power failure.
In Moseley, Birmingham, a baby girl had to be taken to hospital after a strong gust knocked her and the pushchair she was in into a lake.
West Midlands Ambulance Service said her mother jumped to her rescue after high winds carried the child into the water as the pair were feeding ducks.
There are widespread travel delays, including at the Port of Dover where disruption to sailings remains.
Passengers are being advised to check with their operator before travelling.
Kent Police implemented Operation Stack - closing a section of the M20 because of the port closure - and this remains in place.
Arctic weather
The Met Office has issued a severe weather warning for parts of the UK.
Spokeswoman Helen Chivers said the cold weather was coming "straight from the Arctic" and everywhere across the UK would have a chance of seeing snow over the coming days.
"The air will be a lot colder, with sleet and snow showers working their way across the whole of the UK by Friday morning."
Northern areas could see snowfall between 10cm (4in) and 20cm (8in), while southern England is likely to see 2cm (1in) to 5cm (2in) of snow.
Blizzards and snow drifts, due to the high winds, were likely in northern parts, she added.
Elsewhere, a 50-mile stretch of the M6 motorway was closed to all traffic as winds gusted up to 70mph causing several accidents, including the fatal one near Tebay early on Thursday.
A Cumbria Police spokesman said: "The HGV appeared to have been affected by the adverse weather and has blown over, causing the vehicle to collide into a central reservation."
Drivers are warned to be wary of the possibility of trees or other debris on roads
Grampian Police
In Wales, the M48 old Severn Bridge, the Cleddau Bridge in Pembrokeshire and the Britannia Bridge in north Wales are closed to high-sided vehicles.
In Scotland, restrictions are in place on the Tay and Erskine bridges, and further north there were also warnings on the Skye and Kessock bridges.
Around Aberdeenshire, police are warning that heavy snow, fallen trees, and a number of other minor incidents are causing problems for motorists.
A Grampian Police spokesman said: "Drivers are warned to be wary of the possibility of trees or other debris on roads, in view of the current weather conditions, and to take particular care."
Also in Aberdeenshire, a 61-year-old ice climber who was stranded on a cliff after injuring his leg, was rescued in an operation involving up to 50 people.
Teams from RAF Leuchars and Lossiemouth braved blizzards to save the man, who was located at 0430 GMT on Thursday in Raeburns Gully, Deeside.