A devastating cyclone killed nearly 4,000 people and left thousands more missing in army-ruled Myanmar, state media said on Monday, a dramatic increase in the toll from Saturday's storm.
The death toll only covered two of the five disaster zones where U.N. officials said hundreds of thousands of people were without shelter and drinking water in the impoverished Southeast Asian country.
"The confirmed number is 3,934 dead, 41 injured and 2,879 missing within the Yangon and Irrawaddy divisions," Myanmar TV reported three days after Cyclone Nargis, a storm with winds of 190 kph (120 mph), hit the Irrawaddy delta.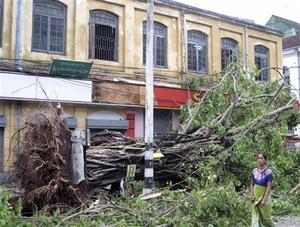 ©REUTERS/Xinhua/Zhang Yunfei
People walk past fallen trees on a street in Myanmar's biggest city Yangon on May 3, 2008 in this picture distributed by China's official Xinhua News Agency.