A leatherback turtle was tracked by satellite traveling 12,774 miles (20,558 kilometers) from Indonesia to Oregon, one of the longest recorded migrations of any vertebrate animal, scientists announced in a new report on sea turtle conservation.
Leatherback sea turtles (Dermochelys coriacea) are the largest of all living turtles and are widely distributed throughout the world's oceans. They have been seen in the waters off Argentina, Tasmania, Alaska and Nova Scotia.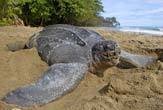 ©Brian Hutchinson, CI
A leatherback sea turtle returns to sea in Grande Riviere, Trinidad.