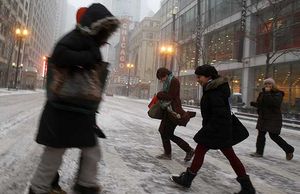 We were warned. And Mother Nature did not disappoint.
The great blizzard of 2011 roared into Chicago with mighty force at around 3 p.m. and continues to pound the area.
The deluge of snow and wind knocked out power to tens of thousands of customers, blew out windows and delayed many commuters. Some are still trying to make their way home.
"Main city streets downtown leading to the expressways are now JAMMED," said reporter Dick Johnson, who braved the conditions en-route to a live report. "Seems not enough took the endless warnings and storm start time seriously."
Predictions called for up to 24 inches of white stuff, and as of 1 a.m. it doesn't seem unlikely.
O'Hare International Airport saw 10.6 inches of snow between about 6 p.m. and midnight Wednesday and had a foot of snow on the ground at 12:20 a.m., according to a National Weather Service snow depth report.
That's a significant increase from earlier, when only 2.8 inches of snow fell at the airport between noon and 6 p.m. Tuesday.
Midway International Airport, on the Southwest Side, was reporting 10.2 inches of snow on the ground as of about 10:45 p.m.
Officials from the Office of Emergency Management and Streets and Sanitation Department twice warned commuters not to test the roads. They suggested staying indoors and booking hotels over night.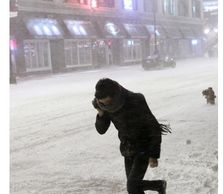 "This will be a storm that a lot of people remember for a long time," said Jose Santiago, Executive Director of OEMC.
In Elgin, plows were pulled off the roads because traveling became "simply too dangerous," city officials said.
In response a number of Chicago area hotels have issued special rates for snowbound commuters.
For those who are lucky enough to make it home from work, Streets and Sanitation Chief Tom Burn asked Chicago residents to be mindful not to park on arterial streets.
"We will remove cars," he said.
The Streets and San team continues to have its entire fleet of snow-fighting trucks out working to keep the main streets open.
School kids won't have to worry about their commute. Chicago Public Schools closed all of their locations for Wednesday.