2008 is expected to break U.S. record for number of tornadoes in one year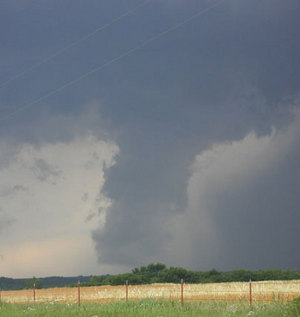 ©Associated Press
Clouds descend from a storm that created tornadoes near Marshall, Okla., on Saturday. So far this year, tornadoes have killed 110 people.
Another week, another train of tornadoes that obliterates entire city blocks, smashes homes to their foundations and kills people even as they take shelter in their basements.
The year is not even half done, but 2008 is already the deadliest tornado year in the United States since 1998 and seems on track to break the U.S. record for the number of tornadoes in a year, the National Weather Service said. Also, this year's storms seem to have been unusually powerful.
Meteorologists cannot explain exactly why this is happening.

Comment: They haven't been reading SoTT