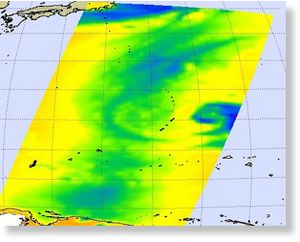 Microwave imagery from NASA's Aqua satellite revealed extremely high thunderstorms in Typhoon Choi-Wan as it began passing the island of Sai-Pan in the Western Pacific Ocean. The U.S. National Weather Service has already issued a tropical storm warning and a typhoon watch for Tinian, Saipan and Agrihan in the Northern Mariana Islands.
Saipan is the largest island and capital of the U.S. Commonwealth of the Northern Mariana Islands. The Northern Marianas are a chain of 15 tropical islands belonging to the Marianas archipelago in the western Pacific Ocean. In the year 2000, the island chain was home to more than 62,000 residents. The National Weather Service issues advisories for them, because they are a U.S. Commonwealth.
NASA satellite imagery showed that the tops of the thunderstorms are so high they reached the tropopause, the level of atmosphere between the troposphere and stratosphere. Those high thunderstorms mean very heavy rainfall for the area underneath. The cloud tops extended to the 200 millibar level in the atmosphere where temperatures are as cold or colder than -63 Fahrenheit.