China faces its worst floods in 70 years after weeks of heavy rain; disasters have been declared in 24 areas,
including the upper reaches of the Yangtze; 7,300 homes have collapsed and damage exceeds 20.7 billion yuan.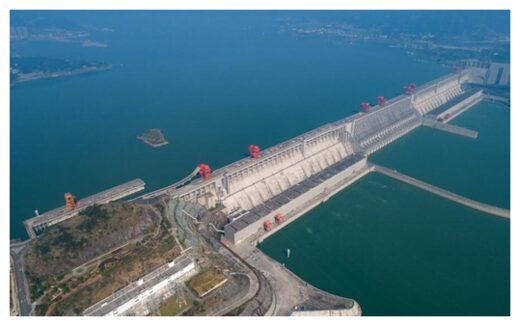 A flood alert has been raised near China's famous Three Gorges Dam after the country suffered its heaviest rainfall in 70-80 years. Torrential rain has been causing chaos throughout China's southwest this month, with many rivers overflowing and mass evacuations.
Heavy rains over the past three weeks have led to disasters being declared in 24 provinces and municipalities, especially near the upper reaches of the Yangtze River and the Three Gorges Dam.
This is reportedly the largest flooding since 1949 and has caused serious challenges to the world's largest dam.
In Chongqing, authorities dredged 100,000 tonnes of silt overnight as levels rose.
Three Gorges is located in Sandouping Town, near Yichang City in Hubei Province in central China. It is 38 kilometres from the downstream Gezhouba Water Conservancy Project at the eastern end of the Three Gorges Reservoir.
Qijiang Online, the media outlet in the area, quoted Zhao Yunfa, deputy chief engineer of the overflow dispatch communications centre at the Three Gorges Project, who said: "The flood storage capacity of the Three Gorges is limited. Do not pin your hopes on the Three Gorges Dam."