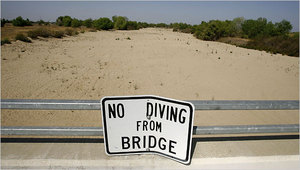 ©David McNew/Getty Images
Los Angeles - Its reservoir levels receding and its grounds parched, California has fallen officially into drought, Gov. Arnold Schwarzenegger said Wednesday, warning that the state might be forced to ration water to cities and regions if conservation efforts did not improve.
The drought declaration - the first for the state since 1991 - includes orders to transfer water from less dry areas to those that are dangerously dry. Mr. Schwarzenegger also said he would ask the federal government for aid to farmers and press water districts, cities and local water agencies to accelerate conservation. Drought conditions have hampered farming, increased water rates throughout California and created potentially dangerous conditions in areas prone to wildfires.