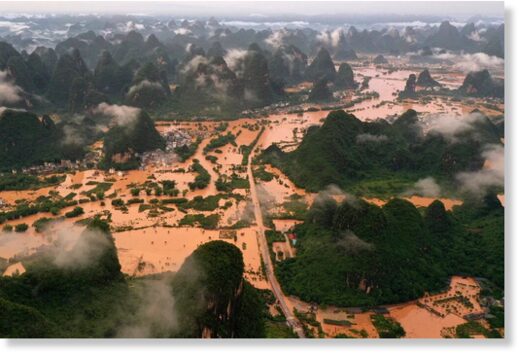 Unusually intense rainfall has swept away buildings and ruined homes in southern China, affecting about 15 million residents. More downpours are forecast for Saturday.
In the inland
Chinese city of Yichang,
the murky water ran waist-high, stranding people in their cars and turning streets into canals. Near the metropolis of Chongqing,
angry torrents of water swept
away country roads. The tourist town of Yangshuo experienced a cloudburst that an
official called a once-in-two-centuries event.
Weeks of abnormally intense rains have wrought destruction across southern China,
leaving at least 106 people dead
or missing and affecting 15 million residents in the worst flooding that parts of the region have seen in decades.
One of the hardest-hit provinces has been Hubei, whose capital, Wuhan, also had the first emergence of the coronavirus last year. Late last month, rescuers smashed car windows to free passengers trapped by floodwater in Yichang, a city in Hubei down the Yangtze River from the Three Gorges Dam, one of the world's largest.