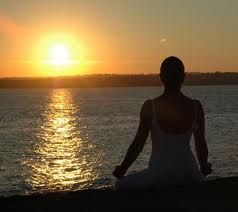 Do you respond to stress with a fiery growl or a cold shoulder? Yoga can transform your reactions, improve your health, and help you embody grace under pressure.
Meet Mark: When something stressful happens, he feels energized. His heart races, his senses heighten - he even feels as though his thoughts speed up. Mark prides himself on his ability to face problems head-on, but he admits that it's becoming difficult to turn this intensity off. Lately he's been feeling more on edge than on top of his game. He's developed headaches and insomnia, and he's beginning to wonder if they're related to stress. He'd like to feel better, but he can't imagine himself changing his full-throttle approach to life. Without stress, how would he ever get anything done?
Mark's wife, Sue, doesn't feel energized by stress - it exhausts her. She feels so depleted by stress that she's begun to cut back on the things that generate the most stress, such as planning big family gatherings. To maintain her composure, she tries to walk away when conflicts arise. She's even considering leaving her challenging job to find something less intense. Sue proudly sees in herself the ability to "just let things go," which she's been cultivating through her yoga practice.
But even though she's simplified her life, she's been feeling depressed. She has a nagging feeling that her attempts to be stress free are getting in the way of fully living her life. Mark and Sue are characters based on real people, and are designed to represent two real responses to stress - one or both of which may seem familiar to you. As Mark and Sue are discovering, stress is inescapable, but it is also paradoxical: While excess stress can take a toll on you, the very things that cause it are often the same things that make life rewarding and full. Take a moment to think about the pressures in your life: family, work, having too much to do. Now imagine a life without those things. Sound ideal? Not likely. Most people don't want an empty life; they want to possess the skills to handle a busy and, yes, even complicated life.