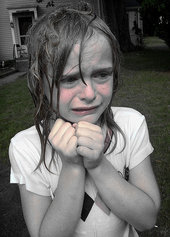 Human relationships are plagued by fear. This cycle all too often begins in our first relationship with our parents. Too self-absorbed to recognize what their child truly requires of them, many parents betray their own child's weakness and dependency on his caregivers - his emotional need for comfort, security, trust, and the loving acceptance of those closest to him. Having missed out on these important periods of growth, this boy, now a parent himself, may come to feel threatened by the emotional needs of his own child, becoming dependent on his own children and spouse to provide what he never had. The vicious cycle spirals on, and in turn, his own children learn to stifle their needs, deny their own feelings, and live as hollow reflections of the needs of their father. When a child must meet the emotional needs of a parent, and not the other way around, the parent-child relationship is inverted.
Stephanie Donaldson-Pressman and Robert Pressman
call this the 'narcissistic family dynamic', and the problems it causes are directly relevant to the vast geopolitical problems the world currently faces.
Such children, like their parents, seek some source of comfort, some sense of security, but not knowing where to look and what to look out for, they often find it in all the wrong places: their own children, their lovers, their work, some religious or political cause. As much as they may deny it, they are motivated by the very fears they experienced as children - afraid of being alone, not belonging, uncertain, unloved, confused, abandoned. They find shelter from the pain in some literal or symbolic arms of embrace, yet it is incomplete in some way, like the 'security' of a sinking ship or of a castle built on foundations of sand. Not wanting to let go, and face that pain again, they shore up their defenses - a rallying of troops to give 'the people', their own fragmented personalities, a sense of security. But such a cover-up is built upon and dependent on lies, things half-seen through the lens of denied and distorted emotion. We may be denying that we are in a relationship with a psychopath, someone who, despite the abuse and mental torture they subject us to, offers us some sense of comfort and stability in life. Or we may deny our own betrayal of our loved ones' emotional needs: the child we criticize and deform according to our own twisted ideals or the lover we demand to be someone they are not.